About Movie Poster Service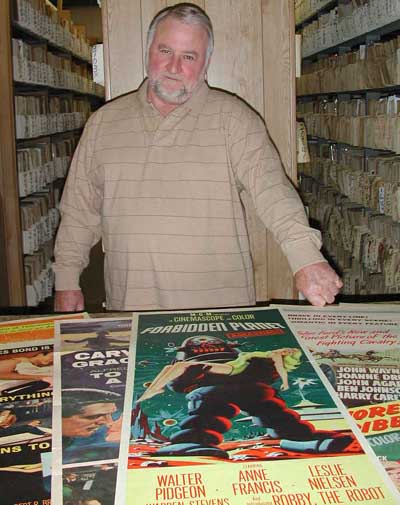 MOVIE POSTER SERVICE is the oldest and largest collection of vintage original movie posters in the world.

In 1926, in a theater in Sand Springs, Oklahoma, Bob Smith, as a teenager, started saving the posters from the theater he swept. Later, he opened the first independent poster exchange in the nation, and began renting movie posters to theaters in many areas around the world. During that time, eleven independent exchanges were in operation. As the years passed, most closed or sold. In 1973, Bob decided to retire and sold Theater Poster Service to his then son-in-law, Cleophas Wooley. Cleophas changed the name to MOVIE POSTER SERVICE, and continued to rent movie posters to theaters for many years.

Only three independent exchanges were left in operation. Duncan Poster Service Dallas, TX; Theater Poster Exchange in Memphis, Tennessee, and us, MOVIE POSTER SERVICE in Canton, Oklahoma. As the theater play dates changed, and original movie poster collector appreciation increased, MOVIE POSTER SERVICE, the largest collection of original movie posters in the world, became collector oriented. The MOVIE POSTER SERVICE collection contains well over one million pieces of the best condition authentic vintage movie posters-one sheets, three sheets, six sheets, 14x36's, 22x28's window cards, lobby cards, pressbooks, 8x10 stills, and other movie memorabilia in the world today. MOVIE POSTER SERVICE continues to maintain it's outstanding reputation and historical place in movie poster collecting.

MOVIE POSTER SERVICE has been located in Canton, Oklahoma since about 1962, and has been at 118 N. Broadway over 30 years.

Cleophas and Lou Ann Wooley were married in 1974, and have been actively involved in movie poster collecting ever since.